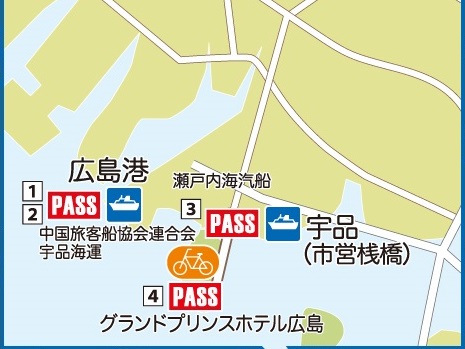 .


You go to "the Setouchi cycruise PASSapplication desk".

Staffs will give the PASS, and the PASS is available for 3days from day of issue.   

When you buy a ship's ticket, please show the PASS to staff
.


If you need more details about PASS, please check
here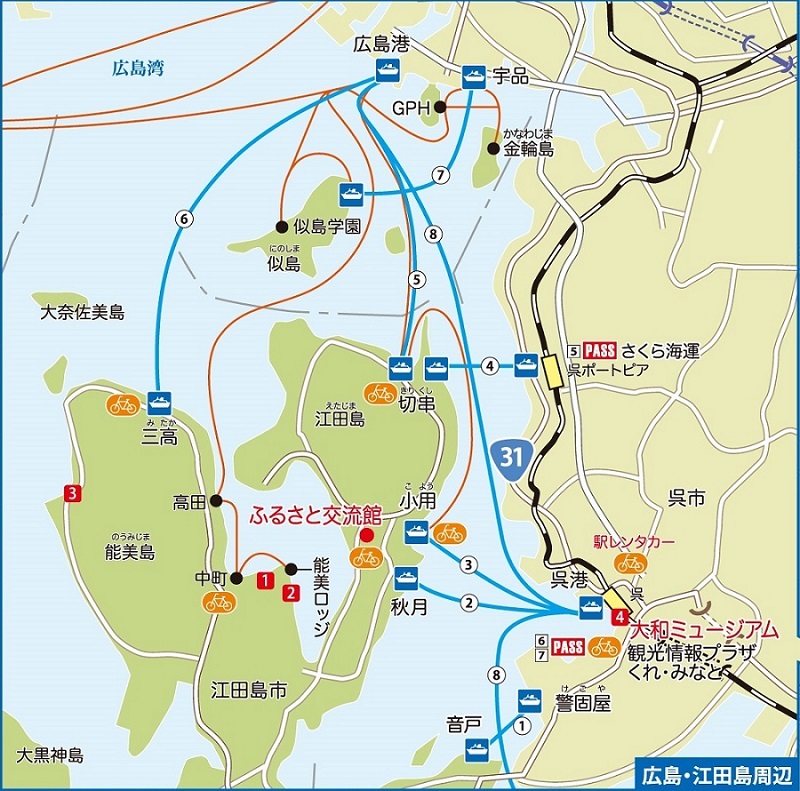 Opening Hours
Inquiry
1 Chugoku region Passenger Association
(一社)中国旅客船協会

9:00-17:00(Mon―Fri)
+81‐82−253−6907

2 Ujina Kaiun
(Hiroshima Port ticket desk)
宇品海運
(広島港宇品旅客ターミナル島嶼部行切符販売窓口)

7:30-17:30
+81‐82−251−5191
3 Setonaikai kisen
瀬戸内海汽船
9:00-17:30
+81‐82‐251−1212
4 Grand Prince Hotel Hiroshima
グランドプリンスホテル広島
10:30-18:30
+81‐82−256−1111
5 Sakura Kiun
さくら海運
(呉ポートピアパーク)
8:30-18:00
+81‐823−38−8988

6 Kure tourist information center
呉観光情報センター
9:00−19:00
+81‐823−23−7845
7 Seven-eleven Kure inside center port terminal
(Convinience store)
セブン・イレブン
 呉中央桟橋ターミナル店
 
7:00−18:00
+81‐823-22-0758






"Setouchi Cycruise PASS " is very useful for cyclists who travel around Setouchi(瀬戸内)Region.
This pass will give a discount for ship's fare. Enjoy cruising and cycling !Your travel must be memorable one.

You can check time-table and each fare, if you click number
.